The terrace house in Oetwil, Switzerland, doesn't just have a spectacular view. The building itself is a sight to behold.
The Limmat flows through a charming landscape on the southern edge of the canton of Zurich. In Oetwil in 2019, a terraced apartment building sprung up on a slope, giving it an exclusive view over the area. Designed by MACH, an architecture firm based in Zurich, the construction resulted in a four-story building with six condos following the curve of the slope. "Gently curving terrace bands in vertically ribbed concrete frame the various levels and give the building a stylish filigree character," say the architects of their design.
Architect Monika Sandmayr combined the concrete bands with bronze window frames and wooden boards underneath the terraces to create the atmosphere of a cruise ship. The look of the smooth grey ribs on the building's façade was provided by RECKLI elastic textured formliners. The design was implemented using the RECKLI 2/75 Köcher texture. This ribbed texture from the RECKLI SELECT range brings a smooth, vertical rib to the concrete façade. The grooves are 40mm wide.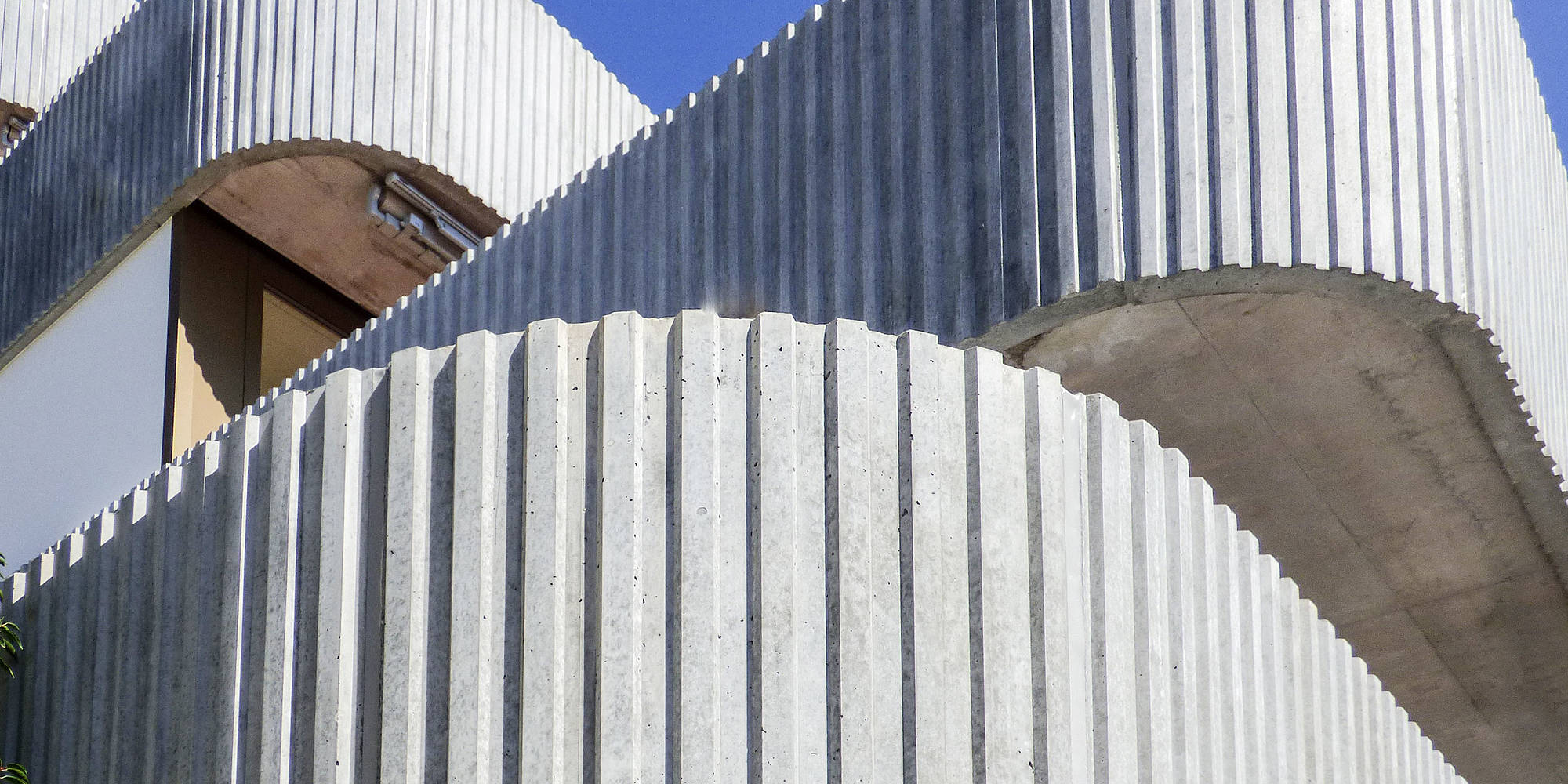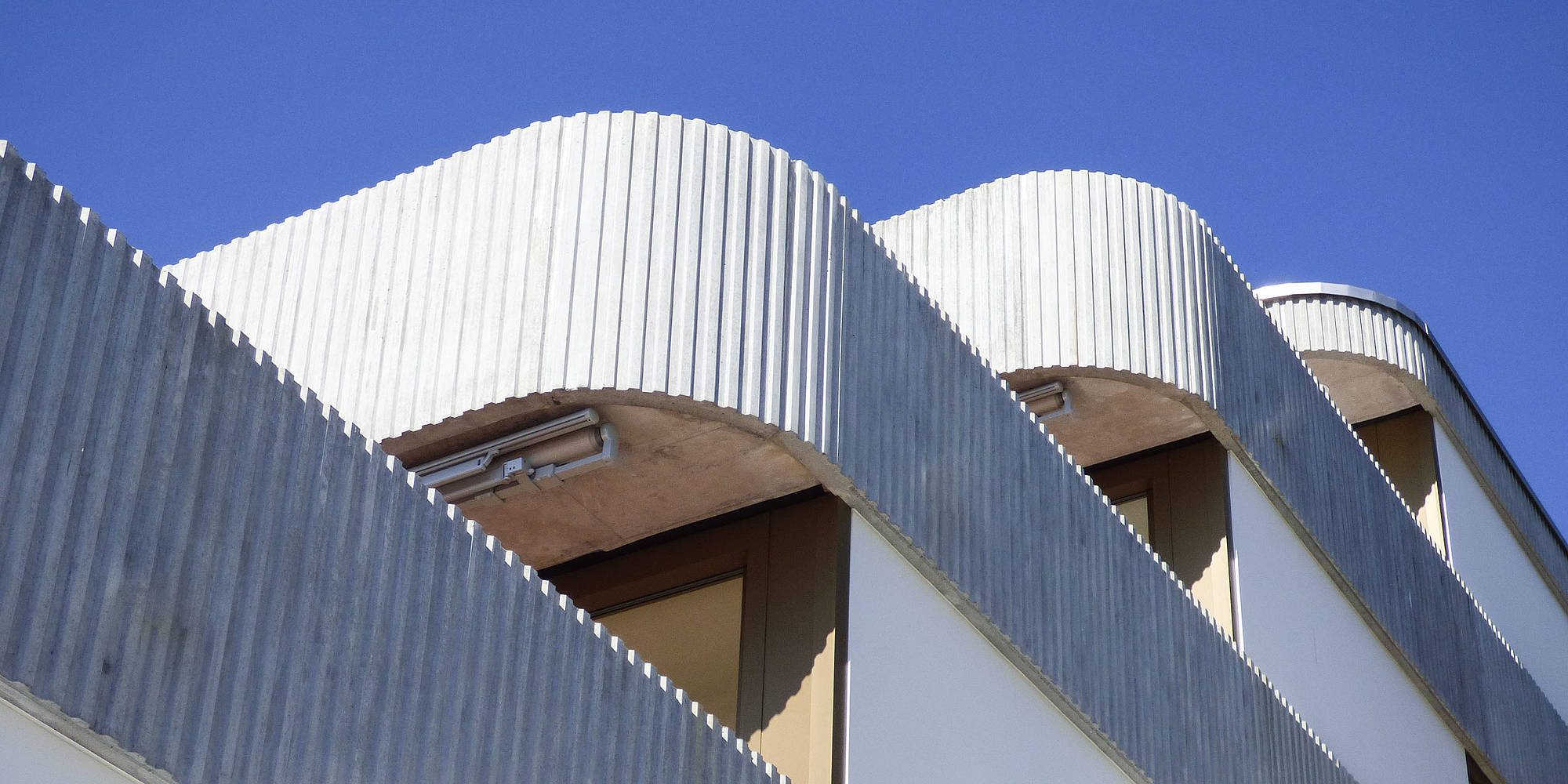 RECKLI Area Manager Elmar Pallasch received a request from Sandmayr in 2017. "The main reason for working with flexible formliners was that all the external corners facing the street were to be produced with a certain radius as well as having a vertical ribbed texture in the exposed surface," says Pallasch. In close coordination with the architect, the first discussion centered around whether the ribbed texture could be customized. In principle, SELECT designs can be adapted to individual customer preferences. Entirely individual designs can be realized with RECKLI's UNIQUE series.

In this case, the architect was thinking about deeper, denser grooves. After consultation with the Favre prefabrication plant, who would be producing the prefab elements, it became clear that the rounded corners could be problematic. If the grooves were too deep and arranged too closely, the corner radius could have resulted in the concrete being damaged during removal, creating extra work.
The RECKLI 2/75 Köcher texture was a good solution for the client's wishes and the building's special requirements. RECKLI originally designed the texture for decorating square Köcher-style bases as used for concrete columns and supports. "What's so special about this is that the grooves are the same when mirrored. This means that the base and the shell can be used with the same symmetrical serration without additional pouring," says Pallasch.
After delivery of the 10 textured formliners ordered, production at the Favre prefabrication plant ran without issue. Favre is a longstanding partner of RECKLI and has already worked with RECKLI formliners multiple times. The expert team produced their own forms for the round corners on the concrete bands, and glued the formliners in. After pouring and drying, the concrete elements were removed and installed on site.

Project: Terrassenhaus, 2019
Location: Oetwil, Switzerland
Architect: MACH Architekten
Concrete Design: RECKLI SELECT 2/75 Köcher